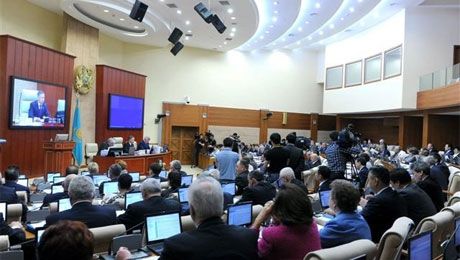 At the plenary session, chaired by House Speaker, Nurlan Nigmatulin, Majilis included the Law "On ratification of the Convention on the establishment of procedures for determination of the minimum wage (No. 26)". Source : [url]http://www.zakon.kz/4599516-mazhilis-prinjal-v-rabotu-konvenciju-26.html[/url].
The purpose of the Convention is to ensure the rights of the state to apply the procedures of setting the minimum wage.
Provisions of the Convention apply to workers in certain industries or sectors of the industry (and in particular in home production), in which there is no established procedure for the effective regulation of wages by collective agreement or otherwise, and where wages are extremely low.
The Convention applies to all branches of economic activity and all categories of workers.
According to Article 28 of the Labor Code of the Republic of Kazakhstan establishing a minimum wage is guaranteed by the State in accordance with the Constitution of the Republic of Kazakhstan.
As it was noted at the plenary session by the Chairman of the Committee on Foreign Affairs, Defense and Security, Maulen Ashimbayev, the Convention on the establishment of procedures for setting the minimum wage was adopted at the MOT General Conference on 16 June 1928.
103 MOT member states have ratified the Convention. Two of them are from the State of the Commonwealth of Independent States – Armenia and Belarus.