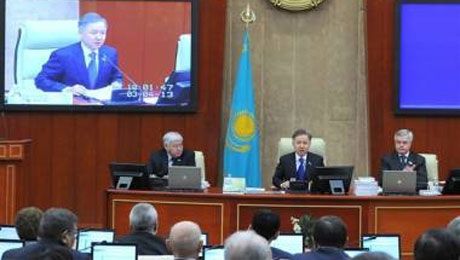 At the plenary session Majilis included the law "On ratification of the Convention for the Protection of Wages (No. 95)," into the scope of work, as the press service of the Majilis of Kazakhstan reports. Source: [url]http://www.zakon.kz/4599521-mazhilis-prinjal-v-rabotu-zakonoproekt.html[/url].
The purpose of the Convention is timely payment of wages in cash by employers. It is forbidden to pay in the form of promissory notes, receipts, coupons, or in any other form, supposedly relevant to legal currency.
Payment of wages in the form of alcoholic beverages with a high alcohol content, as well as harmful to the body of drugs is not permitted under any circumstances. Deductions from wages are determined by the laws of the country or established by collective agreement or arbitration award.
The current legislation of the Republic of Kazakhstan fixed the above conditions, they are met and observed.
The chairman of the Committee on Foreign Affairs, Defense and Security, Maulen Ashimbayev stressed that the Convention for the protection of wages was adopted at the MOT General Conference on 1July 1949.
97 MOT member states have ratified the Convention. They include the Commonwealth of Independent States – Armenia, Azerbaijan, Moldova, Belarus, Kyrgyzstan, Russia, Tajikistan, Ukraine.
The purpose of the Convention is the protection of wages. In particular, the Convention shall apply to all persons who have are paid or owed ​​wages.