As we approach the likely release date of the iPhone 6. More and more new information about the future of the flagship line of phones of U.S. corporation appear on the Internet. According Phonearena, with reference to informed source at Apple, the new generation of iPhone for the first time will receive a waterproof housing.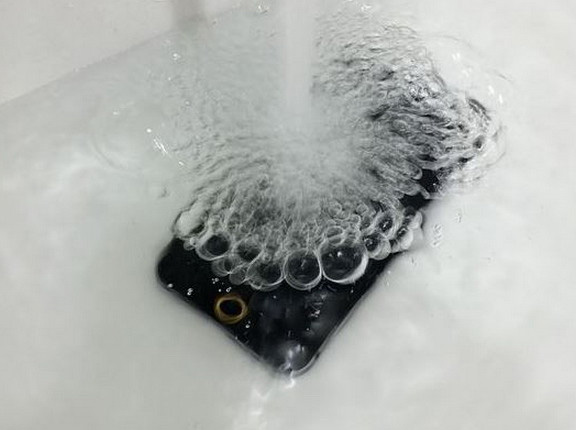 The mass media published "spy" pictures of iPhone 6, in which the device is in the water. It is alleged that the device will be dressed in a dust-and waterproof case which can withstand complete immersion. If this is true, then the new "apple" communicator will join other flagship, and which are not afraid of water. These include the Samsung Galaxy S5 and Sony Xperia Z2. The first has a certificate of protection IP67 and can withstand short-term immersion to a depth of 1 meter. Smartphone Sony is able to be under water at a depth of 1.5 meters for half an hour. Also, waterproof case, as it is rumored, will be received by LG G3 flagship, the presentation of which will take place at the end of the month.
Not so long ago, a journalist of iMore thematic blog suggested that dust and moisture protection is a major advantage to the Galaxy S5 iPhone 5s, despite the fact that this feature is not unique to the market. The blogger believes that the body is protected from ingress of water, and could become one of the "selling things" of iPhone 6. It is not necessarily that your smartphone can swim underwater and keep shooting. But it could maintain its performance at random immersed in water, and even after a heavy rain.
Currently, users who need extra protection for the iPhone, are forced to buy expensive cases spoiling the appearance of the device. "IPhone 5s – probably the perfect smartphone for those who play sports, because of availability of coprocessor of movements M7 and a large selection of fitness applications. But use the iPhone 5s during exercise outdoors is difficult,"- the journalist said.
Source: MacDigger